Friday Features
We talk about
Woodstock wasn't really at Woodstock
Woodstock 1969 is an iconic music festival that is celebrating its 50th anniversary this August 15-18. So, since our book, Can't Stop the Music, begins at the famous Woodstock Festival August 1969, we're taking some extra time to talk about Woodstock and our book.
In Can't Stop the Music we mention that the heroine, Rose, has a festival flyer and her tickets hanging on the wall of her home. We thought it would be fun to show some of the various posters that were printed for the music festival.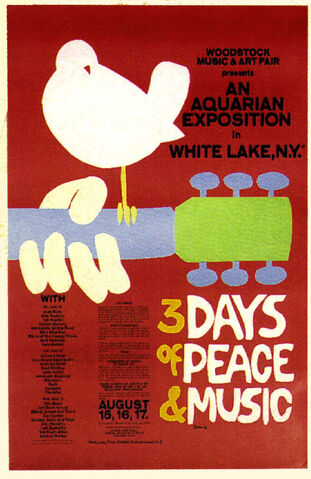 We're fond of the center poster because we think it would help Rose remember the handsome, guitar playing hippie she met at Woodstock—the one she's believes the magic Soul Mate Tree led her to.
Notice the posters have different locations for the festival. That's because the Woodstock organizers, had some issues with the locations they choice. Originally they wanted the venue to be near take place in Woodstock, NY. After residents opposed them, they thought they'd found a second location in Saugerties, NY. That, too, fell through. Another search brought them to the town of Wallkill, NY. But then the town board passed a law that required a permit for an assembly of more than 5,000 people. The estimated attendance the organizers were tell authorities was about 5,000, but in reality they expected 150,000 to show up. The organizers of the concert applied for the permit but ended up being turned down because the number of portable toilets were deemed to be inadequate. A dairy farmer, named Max Yasgur, heard about the festival and the problems the organizers were encountering and he offered his dairy farm, in the town of Bethel, near White Lake, NY, as an alternative site.
The concert was fraught with problems, ranging from an unexpected, massive attendance (500,000 music loving hippies showed up); running out of food; traffic jams that delayed the performers; and a weekend of rain that turned the entire field into a giant mud puddle. Even with all those problems Woodstock was a peaceful concert, which according to historic reports, has not been duplicated since.
For our heroine Rose and the handsome, guitar-playing hippie she falls for, Woodstock was an event they would never forget—thanks to the promise-making Soul Mate Tree.
Here's an excerpt from Can't Stop the Music that we hope will make you want to join Rose and Dakota at Woodstock.
THE LEGEND OF THE SOUL MATE TREE:
I am old, I am ancient, my purpose is clear
To give those who are needy a treasure so dear.
They who come to my roots, touch my bark, stroke my leaves
Find the soul of their lives if they but believe.
When I call and you listen, your prize will be great
If your heart remains open and you don't hesitate.
Do you yearn? Be you lonely? Is your time yet at hand?
Reach for me and I'll give to you. I'm yours to command.
For your trust, for your faith, keep my secrets untold
And I'll gift you forever, to have and to hold.
As they made their way to the festival site, Rose and her friends grooved to the music coming from the stage.
When they reached the makeshift bridge over the road, someone yelled, "Hey beautiful! You with the red hair."
She looked around to see if there was anyone else with red hair. Then she glanced up and spotted two guys, one blond and the other dark-haired, leaning over the side of the bridge.
"Yeah, you," the blond called out as he caught her gaze.
Willow halted beside her. "He's cute. How about him?"
Rose looked away, her gaze landing on the other guy.
He jabbed his companion in the ribs. "Quit trying to pick up every girl you see." Then he leaned farther over the rail. "Don't pay any attention to him. He's high."
"So she's not beautiful?" Willow yelled to the hippie.
She poked her friend. "Stop it, Willow, you're making a scene." In spite of her protest, her gaze remained on the dark-haired guy.
He rested his elbows on the rail and stared back at her. The intensity of his expression shot heat into her belly.
"I didn't say that, just that she shouldn't pay attention to him." He flapped a hand at his blond buddy, then tapped his own chest with his thumb several times as if to say, 'Choose me!'
Does he want me to pay attention to him? Her heart thumped in rhythm to his jabbing thumb.
"Take that one," Willow whispered. "He's the real cutie."
Before she could respond, the crowd pushed them forward. When they reached the other side of the bridge, she looked back, searching for the dark-haired hippie, but the spot where he'd stood was empty.
Just my luck. I see someone who's intriguing and he disappears.
With a sigh, she continued the trek to the festival grounds.
Want to read more? Can't Stop the Music is available on Amazon.